STEWART, Jon. A History of Nihilism in the Nineteenth Century: Confrontations with Nothingness. Cambridge : Cambridge University Press, 2023. 342 p. ISBN 978-1-00-926670-3 (APVV-20-0137 Philosophical anthropology in the context of contemporary crises of symbolic structures).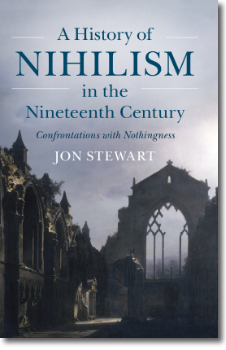 About the author
Jon Stewart is Research Fellow in the Institute of Philosophy at the Slovak Academy of Sciences. He is the author of many books, most recently An Introduction to Hegel's Lectures on the Philosophy of Religion: The Issue of Religious Content in the Enlightenment and Romanticism (2022) and Hegel's Century: Alienation and Recognition in a Time of Revolution (Cambridge University Press, 2021), which was the Philosophy category prizewinner in the 2021 PROSE Awards.
About the book
Nihilism – the belief that life is meaningless – is frequently associated with twentieth-century movements such as existentialism, postmodernism and Dadaism, and thought to result from the shocking experiences of the two World Wars and the Holocaust. In his rich and expansive new book, Jon Stewart shows that nihilism's beginnings in fact go back much further to the first half of the nineteenth century. He argues that the true origin of modern nihilism was the rapid development of Enlightenment science, which established a secular worldview. This radically diminished the importance of human beings so that, in the vastness of space and time, individuals now seemed completely insignificant within the universe. The author's panoramic exploration of how nihilism developed – not only in philosophy, but also in religion, poetry and literature – shows what an urgent topic it was for thinkers of all kinds, and how it has continued powerfully to shape intellectual debates ever since.